No one can dispute the fact that surfing is one of the most demanding sports in the world, both physically and mentally. To do it well, surfers must have incredible strength, power, endurance, and keen concentration and focus.
Most of us would love to be a physical and mental powerhouse, but thanks to our lifestyles, it's often out of reach. We would love nothing more than to be able to spend all of our waking moments on the water, but again, that's a goal that very few of us can achieve. We're not saying that to bring people down. It's a fact of life that the majority of us have other responsibilities.
But not being able to spend all of our time on the water doesn't mean that we have to lose touch with maintaining the physical and mental strength needed to be a good surfer. There are plenty of things we can do off the water to prepare for our next surf session, whether that trip is a week from now or six months, and spending a few days each month with some quality exercises can make a world of difference.
1. Body Movement Training
Surfing requires a seemingly endless number of different movements, and new surfers understand when we say that you are going to feel muscles you didn't even know you had until you get used to those movements. If you don't surf often, any amount of downtime is going to result in those muscles getting complacent, and they will surely scream out in protest the next time you are on the water. Simple exercises like lunges, push-ups, and chin-ups are easy ways to help with body movement, but there are a couple of others that we think you should add to your routine.
2. Balance Training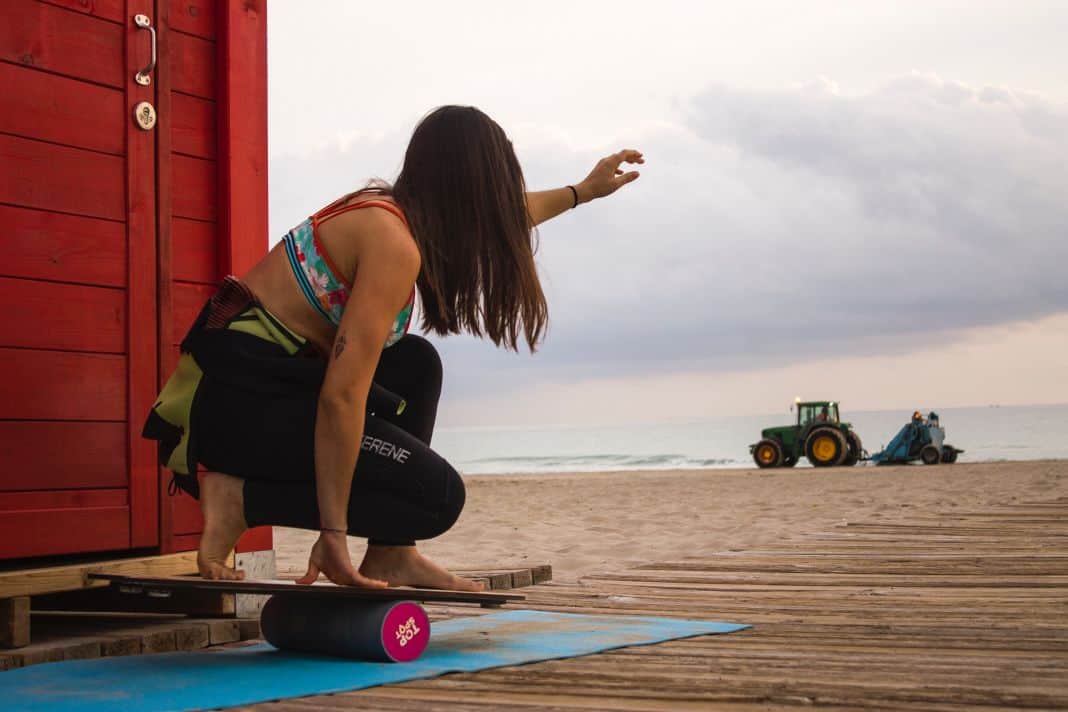 Balance is the key when it comes to surfing. From standing up on the board to maintaining momentum on the wave to simply sitting on the board waiting for the next wave, everything you do on a board requires some balancing skills. Whether you are looking to improve balance or maintain what you already have, proper training off of the water translates to better performance in the water. Simple lunges or exercises on a balance board will go a long way towards improving or maintaining your balance, but here are a couple of others you can add to that balance training.
Single-Leg Deadlifts– A single-leg deadlift may look easy, but give it a try, and you will be quick to realize how unbalanced you are. Done without weights, this exercise forces you to properly distribute the majority of your weight on one leg and hold it there. Not only does it help practice good balance, but it works the legs and core while doing so. 
Ice-Skater Squats– Considered by many experts to be a hidden gem amongst balance exercises, the Ice-Skater Squat is probably something you don't see very often. Why? Because it's not an easy one to master. But if you can master it, it can be an extremely effective way to not only maintain balance but work your hips, knees, and legs, all while being easier on your lower back than many other lower-body workouts.
3. Endurance Training
Surfing will stretch your endurance limits to the max. Surfing in heavy breaks or for an extended period requires a level of endurance that most people, even athletes, are not used to, which is why it's important to include endurance training in any surfing workout regiment. The best way to gain and maintain endurance is through interval training. Interval training combines moments of high energy output with output that is a longer, slower pace. Sounds like a surf session, right? The nice thing is that you don't need any specialized equipment or even extra time to pull interval training off. You can incorporate it into any workout circuit, running, jump rope, and even swimming. Go hard for a while, then slow it down and go a little longer. You will be amazed by how much interval training will increase your endurance.
4. Training the Shoulders and Upper Back
If you can't sustain a good paddle on your board, then you won't be able to grow as a surfer. Paddling is not only one of the most important aspects of surfing, but it's also the most exhausting. Upper body strength is a must to get where you want to go and avoid obstacles while getting there. The right strength training not only gets you that upper body strength but will work the muscles so that they are less likely to succumb to injury on the water. Try these exercises to build a strong and durable upper body.
Dumbbell Bent Rows– The dumbbell bent row is nothing new to the world of weight training, and variations of it are a staple for bodybuilding. Bodybuilding isn't the goal when training for surfing, but strengthening your upper body most certainly should be. To work the back and shoulders properly, you need some variations to hit every muscle. Mix this exercise up a bit each time to make sure you're working every muscle possible.
Shoulder Scarecrows– Scarecrows are an exercise that works the shoulders, upper back, lower back, and abs. While they are seldom seen in the gym, scarecrows are extremely effective in strengthening the upper body. The use of a cable pulley might help you get the most out of scarecrows, but you can also do them using dumbbells or resistance bands.
5. Training the Core
It's a common misconception that training your core means working your abs. If that was the case, a few simple sit-ups a day should suffice. Training your core means much more than working your abs. Your core consists of many different muscles that stabilize your body and help transmit movement and power. Pretty important when it comes to surfing if you ask us. Sure, sit-ups and crunches will help, but there are other effective exercises you can try too.
6. Warm-ups
Until now, we've focused on training that can you can do from home during those times where you may not be hitting the surf as much as you want to be. But we can't forget the importance of warming up before you surf. Think of a warm-up as a kick-starter for your body. It gets your nervous system going, loosens up your muscles, lubricates your joints, and increases your heart rate. These things not only prepare your body for your surf session but also help prevent injuries when you are on the water. Any athlete, surfer or not, will be quick to point out the importance of warming-up. Squats, lunges, shoulder rotations, and standing knee hugs are all easy yet effective warm-up exercises.
7. Nutrition
If you understand the importance of training during your off time, you probably also understand the importance of good nutrition. You're not doing yourself any favors if you counterbalance all the hard work you have been putting into your training with a diet of cheeseburgers and cold beer. We're not saying that either one of those things is evil. We know all too well how satisfying a cold beer can be after a day on the water. What we are saying is that foods like those shouldn't be your entire diet. If they are, no amount of training will counteract it.
Instead, try a more complete and balanced diet. A diet that helps you get the most out of your strength, power, and endurance while ensuring your health and longevity. Surfing can be punishing on a body, and the right diet not only reduces the risk of injury but also helps to repair any damage a session may have caused your muscles, and trust us, they are going to get damaged.
If you are serious about surfing, then you should also be serious about training. Whether we don't have the time to be on the water as often as you'd like or it just isn't surfing season, you will always have some downtime. Using that downtime to train will ensure that when the time does come to get back to it, both your body and your mind will be ready.