Surfing is a sport that's open to all-comers.
We've all gently humored the person who's been out once and comes back to the beach flashing shakas at everyone and complaining about bennies like they've been riding for 20 years rather than 20 minutes.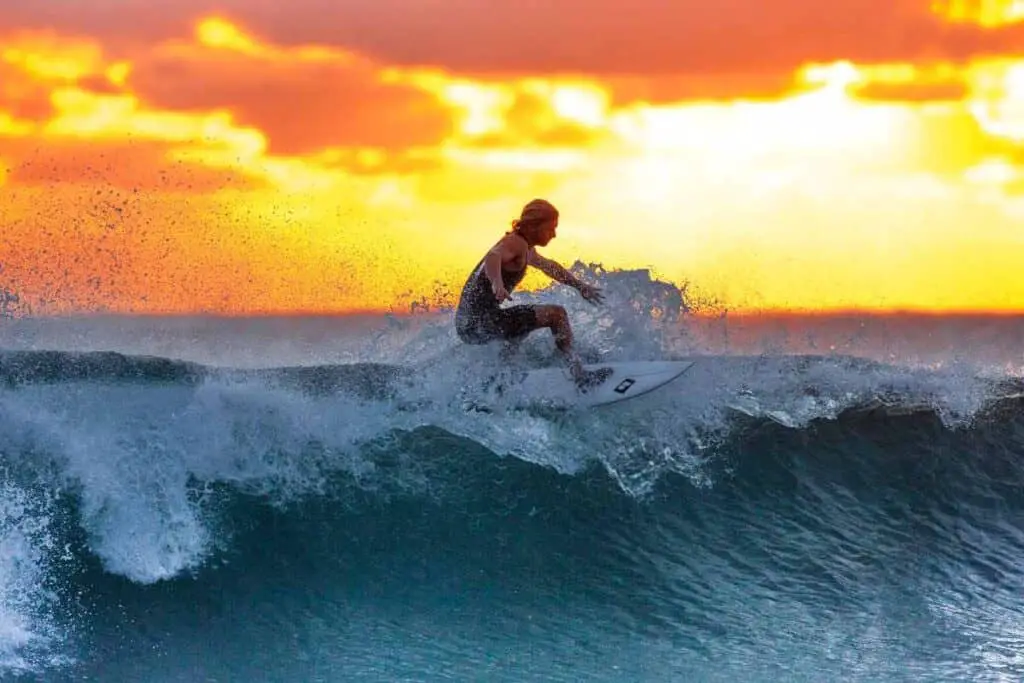 But if they get bitten by the bug, and keep it going, so much the better.
Getting good, however, requires a bit more than being able to look up internet glossaries for jargon. There's time and effort to be put in getting comfortable in the water. There's knowing what gear to buy, or hire. And sometimes that can be difficult for bigger folks.
Not every rental hut will have big and tall wetsuits, let alone have high volume boards like the Easy Rider that'll take the weight of a bigger surfer.
There's the upper body strength, leg strength and flexibility needed to be able to get popped up, which gets progressively more difficult the more weight you're carrying.
That's not to say a bit of timber should stop you getting on the waves. Jimbo Pellegrine has wiped out the stereotype that fat guys don't surf. However it might be true to say there are better body shapes for surfing.
TheInertia crunched the vitals of every male on the World Surf League's Championship Tour back in 2018 and found the 'ideal' hypothetical rider to be 5'11 and 169lbs.
That would correlate to a BMI of 23.7 – toward the higher end of 'normal' per that scale. So, let's have a look at some weight loss tips that may help you make an impact in the impact zone.
Weight loss drugs
Getting motivated on a weight loss and fitness plan can oftentimes be helped by tying it into a desire that shedding some pounds will help enable better surfing.
If you're just getting started in surfing, there are many many hours to be put in before you're shredding competently.
Likewise, if your weight's coming from a starting point in the obese range, it could be worth speaking to a physician about one of the newer pharmaceuticals that can assist.
Currently, the debate is centered around Saxenda vs Wegovy; the latter having been FDA approved as a weight loss aid in 2021.
There's some speculation that Mounjaro – currently approved only to treat type 2 diabetes – may join the fray in the near future. In various studies, patients taking Wegovy lost around 15% of their body weight.
The kicker is that those trials were conducted over a 68 week period – drugs should not be seen as a quick fix, rather as an addition to a solid eating and fitness plan.
Training
Surfing employs a unique set of skills that provide a workout that burns on average 400 calories per hour. It'll work on your core.
You'll need a decent bit of stamina to stay in the water for any length of time. The good news is that for those of us who don't have constant access to waves or even just want to do some subsidiary training that many of the techniques needed for surfing can be done far from the beach.
Paddling is about half of any session, so long-distance swimming in a local pool can be a great way of working on endurance.
While open-water swimming is a little different, you wouldn't be the first beginner surfer to swim against the wave pool in a water park! Squats, lunges, work on an Indo Board and exercises on one leg (yoga can be really useful here) are all great for building up balance.
Helpful for beginners – How to Practice Surfing at Home?
Diet
The key to any nutrition plan is being able to build it around your own lifestyle. While pro surfer Kai Lenny recommends Taco Bell bean burritos, that's borne out of a life pretty much constantly on the road traveling from venue to venue.
For those of us at home, customizing, planning and tracking our goals, it's more practical to follow a sustainable diet rather than holding our bodies over a barrel with a crash diet. Making the drop on land can pay dividends, making the drop on a wave a little easier.