Learning to surf is no easy task. Just standing on the board is a small victory. Keeping your balance is a whole other matter, especially when the waves are constantly moving all around you. With so many factors, it can be pretty confusing!
One critical element is to find out if a high tide or low tide is the best time to surf. Well, the best tide time is generally with an incoming tide when it's between the extreme of high and low.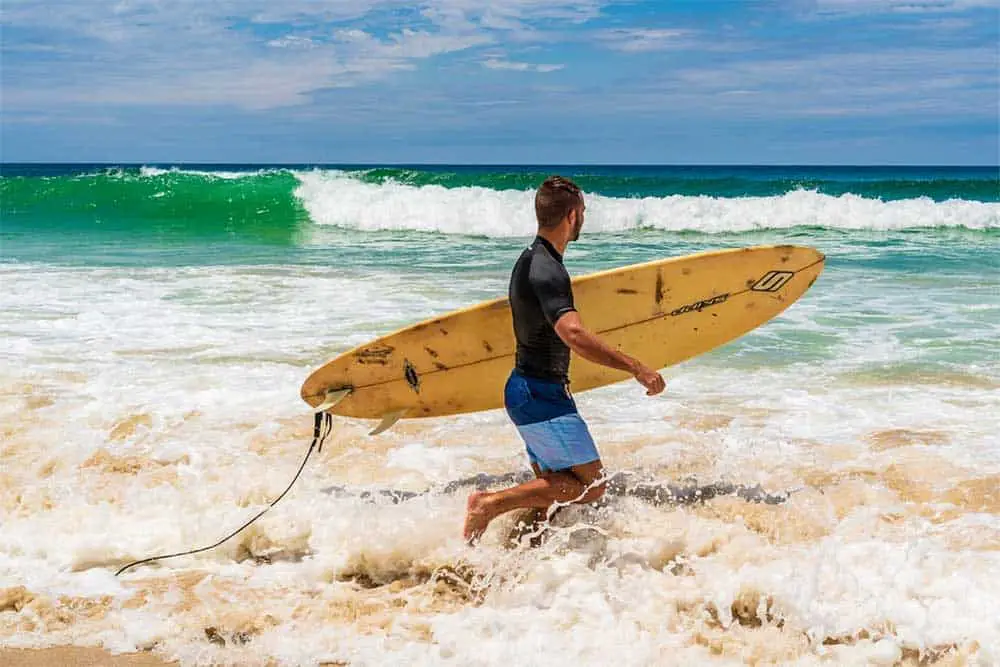 However, this depends on your chosen surf spot because some areas only boast waves at high tides while others have them at low tides. Then again, some regions are too dangerous if you pick the wrong tide.
Let's discover which is the best tide for you to hit the waves so you can plan your next surf with confidence.
High tide for surfing 
A high tide is when the sea is at the top of its tidal range. In other words, it is when the water reaches its highest level. High tide can be a great time to surf but this depends on the spot you choose.  
Some beaches have a shorebreak on their steeper area as the sea reaches its high tide. A shorebreak is when waves break onto the sand directly. As you can probably guess, these are not the best conditions for surfing as it heightens the risk of breaking your board and even yourself. 
This isn't to say that all surfers avoid shorebreaks. Some like these conditions, especially in locations such as Newport Beach, California, and Waimea, Hawaii. However, these tend to suit bodyboarders much more as their boards are a lot softer and do not have fins built onto them.
One reason why surfers generally avoid shorebreaks is because the waves can become quite 'fat' and move around sporadically. This simply means that the waves find it harder to break due to the steepness of the beach. On occasions, a wave can go out to sea and form a backwash wave. This will then push through any incoming waves making them more difficult to catch and, of course, ride.
Low tide for surfing 
A low tide is when the sea is at its greatest distance away. It is when the tide is at the bottom of the tidal range. This means that most of the beach is not covered in water and is left exposed. For surfers, this can be a disadvantage as they have to walk further to hit the waves. 
A low tide can expose possible rocks that usually lurk under the waters. This means that the area will be unsafe to surf near. If you surf at a reef break, a low tide will mean the water is shallower so the rocks below are closer to the surface.
The result is an area that is too dangerous and risky to surf or even swim in. This isn't the rule for all reef breaks, however. But the majority are not safe enough at a low tide. 
Low tides can also see a lot of dumping waves that close out which is a pretty common occurrence at most beach breaks around the world.
It is also possible to experience weaker waves as the tide drops too low. This is usually a bad time to surf, especially just before a low tide. As the tide gets closer and closer to its lowest form, we suggest getting out of the water and waiting approximately two hours before returning.
If you do try to surf towards the lowest tide point, you will usually come across strong currents and a smaller number of waves. Even the waves that are present are typically weaker and not good enough to surf. 
The conditions leading up to a low tide can be seen as a little unusual. This is probably because of the pull of the outgoing tide. Its force runs directly against the incoming waves creating turbulent but weaker waves. Some areas around the world are a no-go zone for surfers on low tide. One is Super Suck in Indonesia. Try surfing here on a low tide and things will become super sucky in no time at all.
How many high tides and low tides during the day?
Most coastal regions around the world experience two high tides and two low tides a day. While some areas only have one high tide and one low tide, these are the exceptions. 
Despite these tides usually occurring twice a day, every day, the highs and lows are not typically equal. This is why the phrase 'high tide' can become unclear in some regions. There can actually be a high tide and a higher tide as well as a low and lower tide. 
Although we all imagine the Earth as perfectly spherical, it is not. Some parts are distorted and not exactly rounded. If the Earth was a perfect sphere without any large continents such as Africa or Asia and the Earth-Moon-Sun system was always in perfect alignment, then every single place on
Earth would receive two equal high and low tides a day. The reality is that the alignment of the moon and sun with the Earth as well as the continents, regional geography, and seafloor features means that tidal patterns are more complex. 
There are three basic tidal patterns around the world:
When both high tides are around equal to one another as well as low tides, the pattern is known as a semidiurnal tide. If the two highs and two lows differ significantly, the pattern is called a mixed tide. If there is only one high tide and one low tide a day, this is known as a diurnal tide.
The issue with calculating how many high tides and low tides happen a day is that one location can experience different tide patterns throughout one calendar month. But, on the whole, most areas experience two high tides and two low tides a month. 
Incoming tides vs outgoing tides 
An incoming tide occurs when the tide is rising or pushing. The shoreline rises on the beach, gradually covering a greater area of it.
An outgoing tide is when the tide is falling or dropping. The sea will drop back from the beach, exposing more of the sand or rocks.
If you're learning to surf, an incoming tide is deemed the better of the two. In most surf spots, a dropping tide can produce currents that pull out to sea while the tide pulls back on the beach. This doesn't mean that there are no currents with incoming tides, however. It just means that an incoming tide is usually safer, especially for those less experienced on a surfboard. 
On the other hand, if you surf when the tide is receding from the beach, it generally means that the waves are weaker. This often sees more currents running through them too. This is why surfers must choose their spots and times very carefully.
How do you check the tide before surfing? 
It is pretty easy to check your local area's tides. One way is to look up the online tidal chart for your region. You can also check NOAA buoy reports or a weather app from your smartphone.
You can also purchase specialized tide-telling wristwatches that provide tide times as well as tide level information. When you check, we recommend heading out in low to incoming medium tides. You just need to keep in mind that low tides on shallow surf breaks can result in higher waves. This means there is less room between the water's surface and the ocean's floor. 
Always research the area you're surfing and get to know it well. Avoid shallow reefs and rock obstacles to limit any risks of serious or even life-threatening injuries. 
So, what is the best tide for surfing? High or low?
Most of the time, the best tide for surfing tends to be around an hour after a low tide to an hour before a high tide. This will give you four hours to enjoy the waves which is usually plenty for most surfers. 
This time is generally the best for surfing because rip currents that are traveling out to sea are more likely on an outgoing tide. Therefore, surfing is safer and much more enjoyable in such conditions.  
Are waves bigger at high or low tides? 
This depends on the surfing spot and the weather conditions. In general, the waves are biggest around an hour after a low tide until an hour before a high tide. However, this can change depending on the topography below the waves and the swell conditions on any particular day. 
If the swell begins to pick up as the tide drops, the waves could get bigger on a lower tide but this isn't set in stone every day. Just pay attention to your local conditions and you will be able to see how the waves are affected on a day-to-day basis.