If you like the idea of surfing but haven't got the time or patience to learn on a surfboard (it takes a long time), then you've come to the right place.
Surf kayaks allow you to catch waves with increased control and stability and can be a real hoot in their own right.
Especially once you're competent enough to carve the wave's face, you'll never look back. That's why we've listed the best surfing kayaks for both adults and children who are looking to catch waves and enjoy the ride.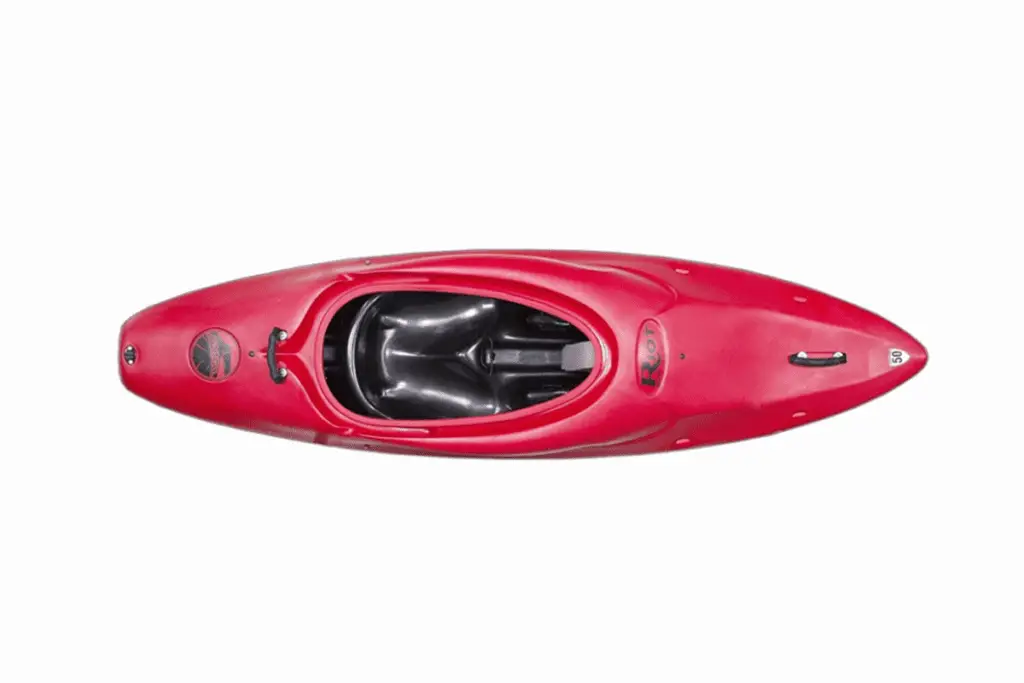 Riot Kayaks are one of the big players in the kayak industry, producing an acclaimed range of premium kayaks for all.
The boogie 50 can now be considered a classic, as it has been stoking out surf-crazed kayakers for many years now. It is a high-performance sit-in surf kayak that features a squashed tail and super-sharp rails for a responsive and manoeuver-driven surf-slaying machine. 
The extended front-end allows riders to enter waves in confidence and creates a tonne of forward-momentum once down and onto the wave's face.
For anyone who is looking to progress through carving turns, its low-set outline coupled with those super-sharp rails will have you slicing and dicing up the surf at your local break.
The surfing power seat has an advanced Drytech feature that helps to keep your backside dry when the surf is surging.
With customizable foam foot blocks and molded-in padded knee pockets, the boogie 50 is a performance-driven kayak that also knows the importance of a comfortable ride.
Weighing just 37.9lbs and handling a paddler weight range of 120 – 200lb, this is a durable, lightweight kayak that's surprisingly affordable and comes ready to surf. 
Pros
Sharp rails – increased kayak response
Drytech power seat – stays dry and surfer-specific
Squashed tail – good for maneuverability
Cons
Sit-in design – may take getting used to for beginners
This all-rounder by Dagger is ideal for keen kayakers who are chasing the thrills of the surf. Classed as a "whitewater all-rounder", the GT Action X is designed to handle well in a bunch of different conditions.
Slide it into the river for some downstream river running or paddle it out the back of your local surf break, the GT Action X comes ready to shred.
This versatility can be put down to its sit-in design on top of a responsive planning hull, forgiving rails, and even volume distribution that brings confidence in the water.
The total outline of this functional craft has been outfitted for maximum control in a variety of conditions and will have you feeling on top of the world and waves from your very first surf.
Although it is a few pounds heavier than the Boogie 50 weighing in at 42lbs, knowing it can take up to 231lbs of paddler weight ensures the GT Action X is a very stable ride. 
Pros
Softened rails – forgiving ride for beginners
Responsive planning hull – offers control in tight situations
Versatile all-rounder – take it in the river and surf
Cons
If you're new to the surf kayaking scene and the price of the Dagger Action had you running for the hills, the Lifetime Cruze 100 comes with a much friendlier price point.
This entry-level sit-in kayak still has plenty of commendable features to its name, it's just not so specialized or well-made. 
The sharp bow that runs along the front-end of its hull is purposed with generating speed and allows for ample through-water tracking.
The flat-bottom mid-point of the hull helps to create a stable ride, which is great for navigating your way back out through the waves.
Up top, the Cruze is, as its namesake lets on, purposefully designed for cruising. Coming with an in-built storage hatch, an adjustable quick-release backrest and seat pad, and multiple footrest options advises that the Cruze is one helluva comfortable ride.
Of course, this also lets slip that its design isn't solely focused on wave catching, and will just as easily cover distance when touring and cruising. Thus, this kayak is perfect for people wanting to dip their toes into the surf kayak game but don't want to shell out for a specialized surf kayak just yet. 
Pros
All-round design – good for touring and surfing
Sharp bow in front hull – speed driven
Quick-release backrest – comfort-focused ride
Cons
Not specialized for surf – only suited to small waves
An exciting sport that pushes you to challenge yourself and take on the surf, yeh, it's safe to say that kids love surf kayaking too. Featuring a low-profile sit-on-top design, The Banzai has been designed with kids in mind.
Ocean Kayak has endeavored to create a safe kayak for kids of all ages to find their paddling groove, and they have done a very good job at that.
The beauty of a sit-on-top is that it feels a whole lot less confronting to paddle and has zero chance of getting stuck in turbulent waters with your child still inside. 
The low-set profile of the Banzai also allows little ones to confidently get their paddle in the water and propel themselves forward.
If you were thinking about doing a spot of kayak touring, a Tag-Along-Tow system has been cleverly incorporated into the Banzai's construction to keep things moving when the kids inevitably get tired.
Coming in stealthy Lemongrass Camo and Seagrass colorways, the Banzai is a stylish kayak that aims to make the sport accessible for young up and comers. Purposefully safe and playful, the kids will be counting all their chickens when this beauty gets delivered. 
Pros
Low-set profile – allows kids to paddle
Sit-on-top design – safer than sit-in
Comes in two cool colors – kids love choice
Tag-Along-Tow system – keeps the kids in line when tired
Cons
Weighs 36lb – may be a challenge for the youngest kids to maneuver
Fast, whippy, and responsive, the Astro 54 is a compact 6ft kayak designed to offer a dynamic freestyle ride. It's the little things that help this performance-driven kayak stand out.
Things like release edges that feature around the entirety of the hull, allowing you to turn sharply and push your surfing.
The front-to-rear rocker will reduce the risk of your kayak digging its nose in on those particularly steep and deep take-offs that you're looking to master. 
In-built front and rear flotation bags give this whippy little craft a good deal of buoyancy so that you have a fighting chance to bounce back up again when a wave is trying its very best to pull you down.
Although this isn't a specialized ocean surfing kayak, as you can see, it is more than capable of handling powerful surf and, in the event of a wipeout, popping back up again. 
It also comes power seat compatible which is the seat type that Riot recommends for surf kayaking. The Astro 54 can only take a paddler weight of 180lb at a maximum, so if you're clocking in higher than 180 on the scales, then Riot has a beefed-up Astro 58 just for you.
Pros
Comes in two sizes – suited wide range of paddler weights
Release edges – allows you to lean into sharp turns
Floatation bags – very buoyant for its size
Front-to-rear rocker – won't nose dive on steep waves
Cons
Not designed for beginners
At 10ft in length, the Aruba is a full-sized kayak that is great for touring calm ocean waters and surfing a few waves along the way. Being long and strong certainly has its advantages where wave catching is concerned.
Its ability to get onto and start riding swells before high-performance surf kayaks will have you gliding across the waves in style. 
The problem with Sun Dolphin's Aruba comes when the surf is maxing and the waves are steep because it will have a harder time navigating steep drops and wave faces.
For this reason, it is a kayak built for slowly peeling waves and sea touring more than extreme surf kayaking. 
The large cockpit and adjustable padded seat with high back support have one thing in mind, and that is comfort.
A storage hatch and shock-cord deck rigging have also been built into the Aruba so that you can have lunch at sea and stay hydrated along the way. Adjustable foot braces give you a stable footing to secure yourself when in the crux of catching a wave. 
Sure, catching waves is nice, but spending an entire day out in the bay exploring post-surf is what the Aruba is all about. So, if you're about that too, well, you know what to do. 
Pros
10ft length – makes catching rolling waves easy
Storage hatch – bring lunch along for the ride
Tangerine color – easy to spot in an emergency
Padded backrest – stay comfortable while in the cockpit
Cons
10ft length – not great in steeper surf
If your child has taken a liking to surf kayaking and they're eager to progress, this is the craft to do it in. Dagger's Axiom Action 6.9 is a premium, high-performance kayak that's built to handle well in all whitewater conditions.
Rip it up in the surf, or tear down the river rapids, there is no place the Axiom Action won't go and perform. The planing hull and full-length rail profile give good traction when moving at speed, and will hold confidently when laying the kayak on its rail. 
The tapered stern helps to keep the kayak moving in a forward direction when riding backward, which opens the door to all kinds of spinning trickery.
Weighing just 25lbs, this is one of the lightest performance kayaks on the market to give your kids the edge when kayaking with the best.
If the Axiom Action has got you feeling a little jealous of its wave-shredding potential, then you'll be pleased to know that it comes in adult sizes too. This high-density, durable kayak comes ready to ride, perform and look good in either Blaze or Electron colorways. 
Pros
High-performance design – built for progression
Weighs 25lbs – easy for children to maneuver 
Comes in adult sizes – gives everyone a chance to perform at their best
Cons
This cheap and cheerful kayak is a recreational kayak that will get you surfing waves for a whole lot less. Pelican's Sonic 80X is a self-bailing, sit-on-top kayak designed to offer a safe and secure wave-riding time.
The twin-tunnel hull makes for a maneuverable and stable ride to get first-timers feeling the surf-riding vibe.
In case you were wondering about this budget-friendly kayak's weight-bearing credentials, it is a super buoyant affair that can confidently hold 225lbs and keep on floating. 
The seating spec is a clever mix of an in-built ergonomically-tested seat and an Ergoform padded seat back, for comfort's sake.
With multiple footrests, an integrated water bottle holder, bungee protected tank well storage, and a quick-release drain plug, this is the kind of multi-use kayak that will be hard to leave the house without.
Sure, it may not have the same wave-riding credentials as the premium surf kayaks, but for its price, this is an impressive kayak to hit the surf paddling. 
Pros
225lb maximum capacity – floats full-sized adults
Very competitive price – equals a non-committal purchase
Ergoform padded seat back – allows you to kayak in comfort
Cons
Entry-level design – Doesn't compare to specialist surf kayaks
Coming in four inspiring multi-colored designs, the Malibu 11.5 by Ocean Kayak wants you to want it. Seagrass, Lemongrass Camo, Sunrise, and Ahi are the four colorways on offer and let us tell you, they really do pop when cruising over water.
The Malibu is a single-person sit-on-top series that includes both 9.5ft and 11.5ft sizes. The hull construction has been purposefully designed flat to create a stable platform for riding waves. 
You will find a splash-resistant, quick-stash dry hatch that has been conveniently positioned between the legs for easy access.
Ocean Kayak has also made sure your adventures are pleasant by incorporating their patented AirGo technology into the Malibu's molded-in seat and adjustable backrest. 
Another unique feature of the Malibu is the YakLock locking bar at the stern for secure storage. With the inclusion of not one, not two, but three individual cup holders, Ocean Kayak wants you to enjoy surfing the waves just as much as they want you to enjoy kicking back, drink in hand, after the session. 
Pros
Patented AirGo technology – increased comfort on seat and backrest 
Flat hull construction – offers stability in the surf
YakLock locking bar – secure and easy way to store
Cons
Not performance-driven – won't turn on waves easily
Don't be put off by the in-built fishing rod holders of this kayak, as it comes more than ready to take on the surf.
Of course, we're not saying that you should take it out in challenging surf and expect to shred on it,  but just like Ocean Kayak's Malibu Series, the Sentinel's design lends itself to beginner kayakers surfing gentle waves and having a very good time doing it.
For instance, it is a sit-on-top which allows first-timers to feel less intimidated when taking on the surf.
The Sentinel also has a multi-chine flat-bottomed hull to offer stability while surfing. Also, we think it isn't a stretch to say that most people who like catching waves on their kayak probably don't mind doing other things on it too.
Having in-built fishing rod holders and storage doesn't affect its performance out in the surf, but it does open up the possibility to reel in dinner. 
The Sentinel 100X is also very competitively priced and ticks enough boxes to make it a surfing, fishing, all-purpose kayak that, no matter the conditions, is ready to make things fun. 
Pros
Multi-use design – good for surfing, touring, and angling
Well priced – great for beginners
Multi-chine flat-bottomed hull – creates a controlled and stable ride
Cons
Not specialized for the surf
Frequently Asked Questions
What Is Unique About The Design Of A Surf Kayak?
Surf kayaks are unique in that they have flat-bottomed hulls and particularly hard rails. The flat bottom offers an increase in stability while the hard rails allow you to turn and maneuver the kayak better. These are two crucial elements to competently surf waves on a kayak. 
Should I Wear A Helmet While Kayaking?
Wearing a helmet when at the helm of a kayak is a good habit to get into on account of the fact that kayaks aren't light.
Especially when you're surfing or whitewater kayaking where there are other elements at play (rocks being one of them), wearing a helmet can be the difference in making it home safely. 
What Size Waves Can Surf Kayaks Handle?
Although there's certainly no rule book saying that kayaks can't handle themselves in large waves, for the majority of surf kayakers, 1 – 3ft waves are more than enough to feel the thrills of surfing.
Once you get up over the 3ft mark, waves generally become quite a bit more powerful and challenging to surf.
So, unless you're a highly experienced surf kayaker, if the surf report is reading anything over 3ft, then it might be a good day to take the kayak out in the river instead. 
Summary
Riding waves on a kayak can be a super rewarding experience that allows you to feel the rush of the ocean from the stability of your kayak. Not only is it a fun sport to get into, but surf kayaking is also great exercise and allows for the mastering of turns and tricks. 
Whether you're looking to get into surf kayaking for the first time, or you're ready to specialize in a high-performance, wave-shredding weapon.
We hope you were able to find a suitable kayak today, to start surfing on it tomorrow.