If you've ever been on the hunt for the best surf movies on Netflix, you've likely already noticed that the service is seriously lacking in that department. Even worse, it seems like all of the best surf-centered movies aren't available for streaming for long.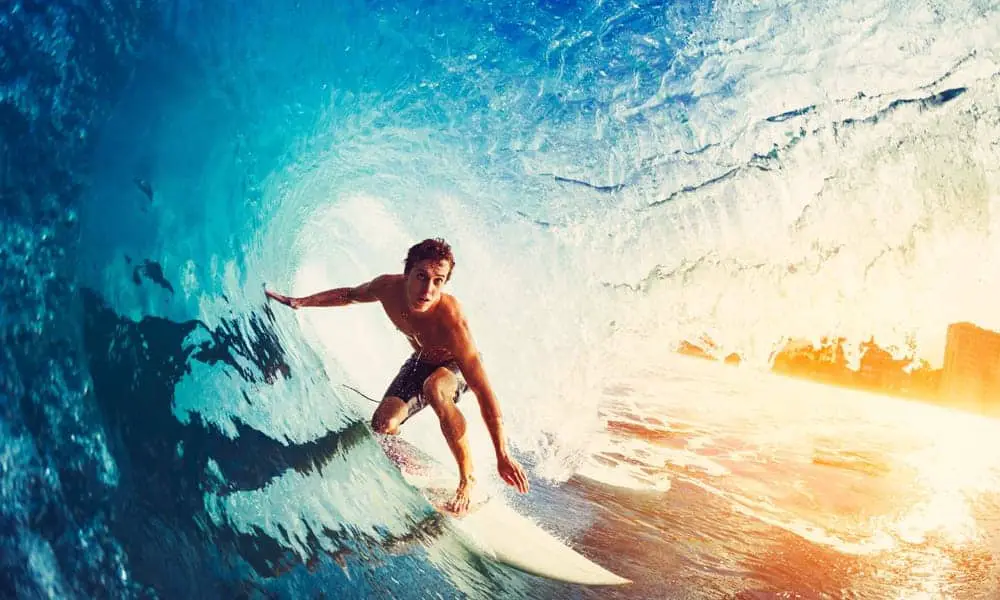 But don't fret! We've put together a list of all the best surf movies on Netflix that you can watch right now. Whether you're a lover of all things surfing or just in the mood to binge-watch some good old-fashioned surfer flicks, we have plenty of options for you. With everything from feel-good features to adrenaline-packed documentaries, below are 8 of our favorites that you won't want to miss.
This inspiring documentary provides a look into the life of Bethany Hamilton, who lost her arm in a shark attack at only 13 years old. The film features stunning cinematography and an incredibly touching story for viewers of all ages. The bigger screen you can watch it on, the better! After her shark attack incident, Bethany pushes through to get back out on the water to pursue her dream of becoming a professional surfer. The film shows her struggles as she navigates through life and motherhood with one arm. It's enough to inspire anyone to push through hard times in the face of adversity.
IMDB Score: 7.4/10
Genre: Documentary, Feel-Good
Rating: PG
Length: 1hr 40min
If you're feeling like a short film, Resurface packs a ridiculous amount of inspiration into a quick 26 minutes. This is the journey of a struggling war veteran Bobby Lane, who sees suicide as his only way to put a stop to his seizures and depression. Then, he discovers Operation Surf, a project that helps veterans overcome their trauma through surfing. It's uplifting to watch these ex-soldiers find hope and mental well-being through the ocean.
IMDB Score: 7/10
Genre: Documentary, Short
Rating: NR
Length: 26min
Trust us when we say, Surf's Up isn't just a movie for the kids. It's quite possibly one of the best-animated surf movies of all time, guaranteeing laughs and entertainment for the whole family. Plus, it doesn't just have your average cartoon soundtrack. You'll hear chart-toppers from groups like Incubus, Sugar Ray, and Green Day.
In this story, Cody Maverick heads to Pen Gu Island for the World Surfing Championship in honor of his surfing idol, Big Z. But Cody soon discovers that the competition is steep and the current champ isn't going down without a fight. Can he push through and win the title of champion? Find out on Netflix! And if you still can't get enough, there's a sequel.
IMDB Score: 6.7/10
Genre: Animation, Comedy, Family
Rating: G
Length: 1hr 25min
If you're in the mood for a film that gets your adrenaline pumping without a specific storyline, you'll love this one. This epic documentary follows men from across the globe, everywhere from Pakistan to Tahiti. They not only ride the biggest waves in the world but take part in a variety of other shocking extreme sports. As you've probably gathered, this film isn't just about surfing. It features shocking footage of thrill-seekers facing the elements in the most shocking conditions that you can think of. Watch as they take part in extreme skiing, paragliding, and more. So, if you're looking for a documentary that will have you on the edge of your seat (literally!) then look no further.
IMDB Score: 6.5/10
Genre: Documentary, Sport
Rating: PG
Length: 1hr 55min
Yet another documentary has made the list – we're starting to notice a trend here. You'll thank us for it though because this one is hard to miss. The movie provides a deep look into the life of renowned 2012 US Open winner, Lakey Peterson. You'll laugh and cry as it documents her wins and losses on her rise to success. In a sport that is so often dominated by men, it's nice to see Lakey's journey. Plus, the story has an inspiring message about accepting yourself for who you are and never giving up when things get hard.
IMDB Score: 6.3/10
Genre: Documentary, Sport
Rating: PG
Length: 1hr
This is a great flick for teens or for anyone who's simply in the mood for a feel-good romance. This is the underdog story of Anne Marie as she prepares for the Pipe Masters surf competition. Just when she thinks nothing could distract her, she falls for a professional quarterback, Matt Tollman. Does she have what it takes to overcome her fears to win both the surfing competition and Matt's heart?
IMDB Score: 5.7/10
Genre: Drama, Romance, Sport
Rating: PG-13
Length: 1hr 44min
BEGIN COUNTING NEW WORDS BELOW
Fishpeople follows the story of six people whose lives have been transformed by the sea in one way or another. This fascinating documentary takes a look at not only surfing but exploring the depths of the ocean with activities like spearfishing and long-distance swimming as well.
IMDB Score: 7.5/10
Genre: Documentary
Rating: NR
Length: 48min
While this inspiring sports documentary primarily touches on the Zephyr skate team in the '70s and the transformation of the sport, there are also plenty of surfing scenes. It's incredible to watch how skateboarding grew from a past-time among the Californian surf scene and evolved into a highly competitive extreme global sport.
IMDB Score: 7.7/10
Genre: Documentary, Sport
Rating: PG-13
Length: 1hr 31min
In this short film directed by Chris Burkard, a group of men goes to extreme lengths in an attempt to surf waves that have never been touched before in the Arctic Circle. Along the way, they have to brave the freezing temperatures and the worst storm Iceland has seen in 25 years. We won't spoil the ending, but it's an inspiring one you won't want to miss!
IMDB Score: 7.1/10
Genre: Documentary, Short Adventure
Rating: NR
Length: 39min
This is not your average film featuring a heroic star of the story. In fact, it's quite the opposite. This documentary is centered around controversial Brazilian surfer Dadá Figueiredo. It talks about his rise from the streets of Brazil to surfing stardom—and the effect his radical views and rebellious attitude had on his career.
IMDB Score: 5.4/10
Genre: Documentary, Biography
Rating: NR
Length: 1hr 11min
If you're in the mood for a feel-good flick, this is a good one for the whole family. Disney's Debby Ryan stars as a fashion model from New York who heads to visit her aunt in Australia when an embarrassing video of her falling down a flight of stairs goes viral. Just a forewarning though—although there are plenty of surf scenes, that's not what the film is centered around.
IMDB Score: 5.5/10
Genre: Drama, Family
Rating: NR
Length: 1hr 25min
Based on true events, Solo is the incredible story of a surfer who falls from the sandy banks of a remote island, breaking his hip and injuring his head on the way down. While he struggles to stay above water, the film takes us on flashbacks to moments throughout his life.
IMDB Score: 4.9/10
Genre: Adventure, Drama, Romance
Rating: PG
Length: 1hr 31min
If you're a fan of the classics, this 60's surfing documentary directed by Bruce Brown is an absolute must-watch. It follows two surfers around the globe as they hunt for the perfect wave, giving you insight into the uncertainty that is surfing.
IMDB Score: 7.7/10
Genre: Documentary
Rating: PG
Length: 1hr 35min
This one's a little unconventional—which, we'll admit, the film's tagline 'Reject Normal' gives away right from the get-go. Surfer Dorian "Doc" Paskowitz hits the road with his wife and nine children, living out of their camper van. He teaches his family about health and surfing while living off the land like animals.
IMDB Score: 7.2/10
Genre: Documentary, Sport
Rating: R
Length: 1hr 33min
This documentary is narrated by a six-year-old child, giving it a unique twist. The film follows the everyday life of a family after leaving their home in Kauai to travel around the world. Full of adventure, struggling, and lots of surfing—this movie is one to add to your list.
IMDB Score: 7.7/10
Genre: Documentary, Adventure, Family
Rating: NR
Length: 1hr 12 min
Beyond the Break is actually a TV series, but we thought it would be a great one to throw into the mix. In a primarily male-dominated sport, this show is all about four girls on the verge of surfing stardom. If you like a great storyline with a unique take on surfing, then it's a story you won't want to miss!
IMDB Score: 6.7/10
Genre: Drama
Rating: PG
Length: 30min
What are Your Favorite Surf Movies on Netflix?
You can currently stream all of the above films on Netflix. We suggest grabbing a bowl of popcorn and watching them while you can – they don't always stick around for long. If you're a surfer (or simply just a couch surfer), we hope that you enjoyed this compilation of the best surf movies on Netflix right now. Do you have a favorite that you didn't see here? We'd love to hear about it! We're always on the hunt for the best surf movies on Netflix to share with our fellow surfing fanatics.