France, the largest country in Western Europe, is a favorite destination for travelers and families.
You can find just about anything to suit your needs there, even surfing.
Here is a list of some of the best surf camps you can find in France!
Surf Camp, France Moliets 
Located in the south-west of France, this surf camp will provide you with the perfect combination of surfing, socializing, and having a good time.
No matter what your situation is, whether you're in a big or small group, a solo traveler, or a student, this surf camp will have you meeting new people and making friends from all over the world!
They offer a variety of packages that include night stays in their bell tents, providing you with super comfy memory foam mattresses.
Ensuring you have a good night's sleep before taking on the waves in the morning is crucial, so you don't need to worry about bringing your own blow-up bed or sleeping bag that'll have you tossing and turning!
You can enjoy this lovely accommodation as a solo traveler, in a group, or as a couple. Their packages include your surf lessons, equipment, and options of a breakfast buffet, picnic lunch, and dinner!
Ideal for beginner and intermediate surfers, the coastline around Moliets-Plage has constant swells that offer wonderful surfing no matter what level you are at.
If all of the above isn't selling it to you enough, this camp also offers yoga sessions!
Practicing yoga as a surfer is great as it will increase your flexibility and help with core strength, key areas for good surf performance. They offer yoga twice a day (except Saturdays) and once a week on the beach during sunset.
They also offer French cheese and wine nights, and day trips to several cities nearby, such as San Sebastián.
If you are looking for a fun summer trip, with an array of activities, as well as surfing, then this surf camp would be great for you!
If the words young, wild, and free resonate with you, you are in line with the Dreamsea Surf Camp ethos. Also located in Moliets -Plage, this camp is offering a lot, from amazing surf lessons to free skateboarding time!
Surfing and partying are what this place offers, but don't let that put you off.
If you are someone who enjoys waking up to the sound of birds and curling up with a good book on a swaying hammock, then you can choose to stay in their glamping tents, placed on the camp outskirts for a really relaxed feel.
Staying in this camp is like living on a little college campus. You'll find all sorts of amenities such as a bowling area, tennis courts, volleyball courts, and a few little stores such as a supermarket, boutiques, a bakery, and bar and restaurant.
Like the previous option, this camp also recognizes how yoga and surfing go hand in hand, and also offers yoga sessions to all their surfers, at an added price.
As well as offering day trips to surrounding cities like San Sebastián, they host beach volley tournaments (the lucky winner gets a prize at the end), ping pong tournaments, movie nights, themed parties, and even salsa lessons!
It's safe to say you will not be bored at this camp. If you are traveling on your own, you don't need to worry as you'll make tons of friends during these activities, and if you are already in a group, then you can enjoy all these fun activities together!
Surf Camp France Hossegor
As fun and lively as the previous surf camps are, we're toning it back a notch with this surf house in Hossegor that is located on Les Estagnots beach.
With a bed and breakfast atmosphere, you'll feel like part of a family when you stay in this surf house, with delicious and healthy home-cooked meals provided for you. If you are a foodie, you won't be disappointed here.
Rather than having set surfing times and lessons, you'll just feel like you're being taken on a trip with friends, where they'll show you the best spots, give you some guidance, and surf till you can't anymore!
If you are a beginner, you have the option of going to their Billabong Surf School, located on their local beach Les Bourdaines, where you'll cover all the basics. Once you are comfortable, you can then go along with the team to their locations.
Located in a quiet forest, the surf house is only a 400 m walk to the beach, with plenty of bars and restaurants nearby. This quaint home has one 8- bed dorm, a 4-bed dorm, and 3 private bedrooms.
There is an open space living area and an outdoor dining area with hammocks, an area that converts to a yoga studio.
This surf house is not fancy but has cold beer in the fridge, comfy hammocks outside, hearty home-cooked food, and is surrounded by people who believe in having a good time together whose purpose is to make you feel like family.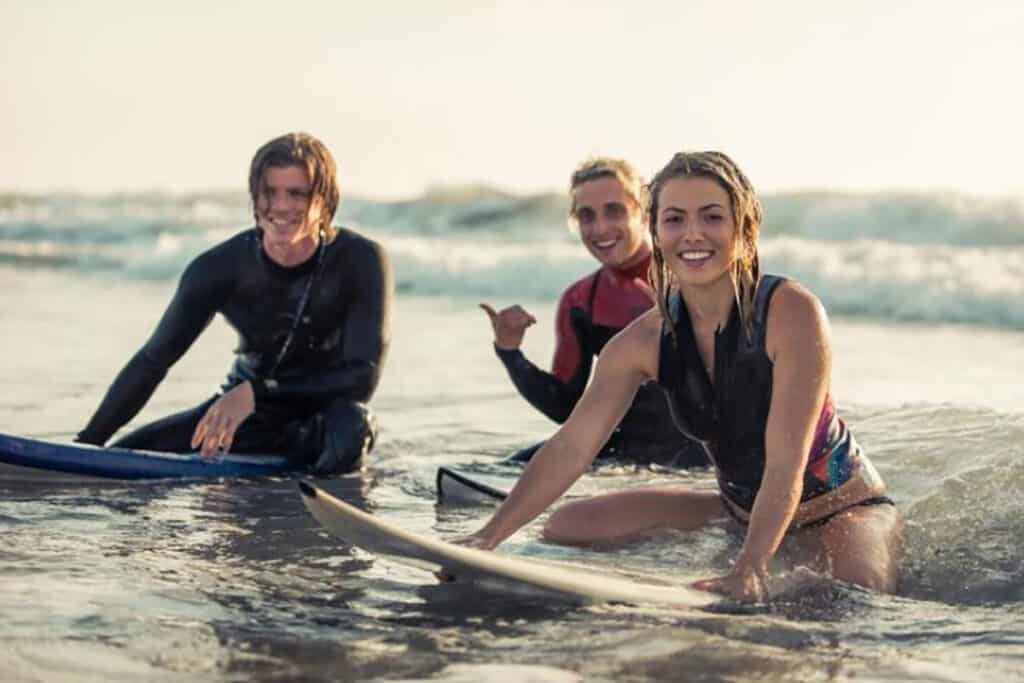 If you are looking to indulge in your passion for surfing, then this surf camp is for you. Located 5 km south of the center of Hossegor, this camp is tranquil and relaxing, surrounded by the Landaise pine forests.
If you do fancy some more vibrancy, the center of Hossegor with all its nightlife is just a short bike ride away.
Much like the previous surf house, this camp has a more bed and breakfast feel to it, that is warm and comforting after an entire day of splashing along in the swirls. The accommodation is located in two houses.
One offers five bedrooms consisting of a family room with a balcony, a private double room, and three dorm rooms. The second house is a bungalow with three bedrooms, two private doubles, and a family room.
Breakfast is included in all packages, you cannot take on any swirls on an empty stomach.
They also provide some yoga services, along with massages and acupuncture services. There's nothing better than ending an active day of surfing with a nice deep muscle massage.
Airport pickups can also be arranged with this company, or pick-ups from local bus and train stations.
As this place doesn't appear to offer beginner lessons, this would be a good option for those who already know how to surf.
Surf Camp South France
Vieux Boucau is a little town in the southwest of France. This surf camp is located on the campsite Les Sableres and is only a two-minute walk from the beach. Talk about rolling out of bed and reaching the waves instantly!
This surf camp offers accommodation for up to 80 people and no more. They like to keep numbers this size so that people can get to know one another.
They will provide you with trained certified surfing instructors that will teach you all the practical elements of surfing, along with guidance and safety and most importantly, how to have fun with it.
Their accommodation consists of a variety of glamping tents with mattresses provided.
They also have tents for leisure where you can relax and get to know other camp mates. These tents then get converted into party tents in the evenings, so you can let loose and dance the night away.
Like the previous camps we've looked at, this option also recognizes the importance of practicing yoga alongside surfing, and they offer several sessions that'll help to strengthen your core and flexibility.
These sessions always take place outdoors, so you can enjoy the beautiful scenery while channeling your inner zen.
The catering in this camp is not far from wonderful. You can enjoy a scrumptious breakfast buffet, along with preparing your own packed lunch for the day.
You can enjoy sitting in the communal areas during meal times with fellow surfers and getting to know each other. Dinner will also be prepared for you and is always nutritious and healthy.
You can also use their equipment outside of class times, so you can practice the skills you've learned, free of charge!
Surf Camp France Biarritz
This surf school has specialized in teaching people to surf in Biarritz for over 20 years! Located on the beach of Cote des Basques, it doesn't matter whether you are a beginner or experienced surfer, this school will provide you with all you need to excel in this sport.
The 800 meters of the beach will offer you different styles of waves, enabling your instructor to direct you to the best swirls for your level.
You will be provided with all equipment needed, such as wetsuits and boards and all instructors hold BEEs (State Surfing Certificate) and the BNSSA (National Water safety and Rescue Certificate), so you know you'll be in good, safe hands.
La Vague Basque surf school is a day school and doesn't provide you with accommodation. However, due to its great location, there are several hotels and hostels nearby to choose from.
Buyer's Guide
Guide To Finding The Right Surf Camp For You
Surfing is a seriously fun sport that gives your body a great workout too. Spending some time in a surf camp can really improve your skills, no matter what level you are at.
You'll be surrounded by people who share your passion for the sport, along with some trained instructors to guide you along the way.
Selecting the right spot for you is very important as you want to get the most out of the experience. Here are a few things to consider before making your decision.
Determine What Level You Are At
Finding a surf camp that caters to your level of surfing is crucial. If you are a beginner, you need to find a reputable surf camp that has instructors who are qualified and experienced.
It is also important to see what kind of lessons they offer. Do they give you some background knowledge on the sea and rip currents? Will they dedicate time to teaching you the theory of surfing and the importance of safety?
The same goes for if you are experienced. If you end up in a surf camp that caters mainly to beginners, you aren't going to expand on your skills very much. Therefore, good research must be taken before choosing a camp.
You could even call them on the phone and explain the level you are at and what you'd like to get out of your surfing trip.
What Is Included In The Price Of The Camp?
Finding out what is included when attending surf camps is crucial. Some will be of a certain price and include your accommodation, meals, lessons, and equipment, whereas others will require extra payments for food and other amenities.
It all depends on what your personal preferences are. If you'd like to have everything included in this one place, then ensuring that your camp will include your meals, etc. would be beneficial.
However, if you'd like to explore where you are and check out food spots nearby, then selecting an option that doesn't include meals would be good, so you are not spending unnecessary money.
The Social Environment Of The Camp
You need to decide what kind of environment you are looking to experience when staying at a surf camp. Surfing attracts all kinds of people, and different camps will cater to certain people's needs.
You should be able to determine what kind of culture revolves around a certain camp from browsing through their website and photos.
Some have more of a party atmosphere, with young surfers who want to mingle and have a good time, and others are quieter, in secluded areas with an emphasis on peace and tranquility.
Once you determine what you'd like to experience, then you can choose one that suits your preferences.
Frequently Asked Questions
When Can You Surf In France?
Autumn and spring are great times to go surfing. The weather is still warm enough and there'll be plenty of swells from the North Atlantic.
Is France Good For Surfing?
The western coast of France is great for surfing, from the south of Brittany to the Spanish border. The coastline is huge and diverse and offers great spots for surfers no matter what their experience level.
Where Should A Beginner Surf In France?
There are plenty of areas suitable for beginners in France. An area that has smaller waves that break softly is best, and you can find these in Plovan, Brittany. Plovan is a quiet area, with waves that break very softly.
Penhors is also a good option for beginners and is next to Plovan. The water is crystal clear, and the waves also break softly. It is also very rarely crowded, which makes it a great place for beginners to get comfortable.
Final Thoughts
As covered in this article, France is a wonderful place for surfing, with many surf camps to choose from, no matter what your experience level is.
Whether you are after a lively atmosphere or more of a bed and breakfast feel, there are camps out there that meet all needs.
Many offer yoga alongside their surf lessons and these two sports go hand in hand with each other as yoga helps build core strength and flexibility, not to mention it's great for the mind, as is surfing.
One thing all these options have in common is the sense of community they encourage. Surfing is a great way to meet new people and make lifelong friends, so if whether you are a solo traveler, a couple, or traveling in a group, surf camps are guaranteed to be a good time.