If you participate in any kind of outdoor activity that involves water, whether it's kayaking, surfing, canoeing, sailing, or even just hiking in adverse weather conditions, you need a dry bag.
Many outdoor adventurers find themselves relying on standard backpacks that are advertised as water-resistant.
However, the problem with this is that water-resistant bags are not necessarily waterproof, and your luggage or personal items can end up getting ruined by water seeping through the fabric.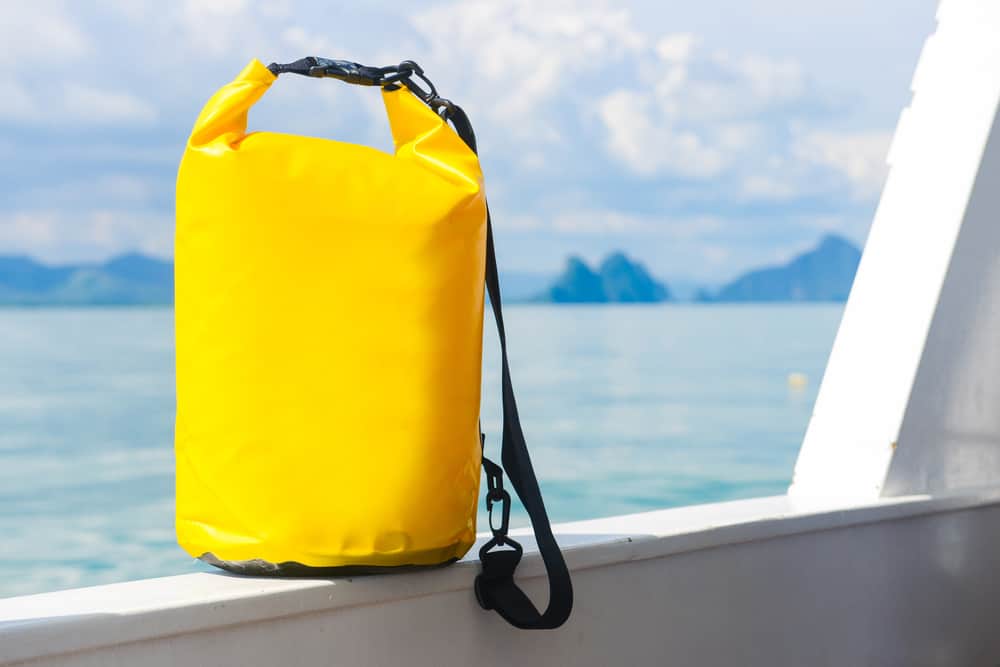 Even bags that are marketed as completely waterproof often base this claim entirely on high-denier fabric, which doesn't actually guarantee complete protection.
There's almost nothing that can ruin a fun day in the great outdoors like opening up your bag to find that your wallet, phone, camera, and other sensitive items have been exposed to water damage.
That's why we recommend investing in a dry bag! Unlike regular water-resistant or waterproof bags, dry bags are constructed with welded seams and watertight seals to lock out water and keep your items safe.
Keep reading to hear all about the five best dry bags on the market. Don't forget to take a look at our buyer's guide for more helpful advice!
IDRYBAG Waterproof Dry Bag
Earth Pak Waterproof Dry Bag
Ultra Dry Premium Waterproof Bag
Wise Owl Outfitters Dry Bag
IDRYBAG Waterproof Dry Bag
Earth Pak Waterproof Dry Bag
Ultra Dry Premium Waterproof Bag
Wise Owl Outfitters Dry Bag
Top Picks
If you're looking for the very best dry bag on the market, we recommend the IDRYBAG Waterproof Dry Bag. 
This bag is made out of PVC fabric which is rated at 500D (Denier). This provides a good deal of protection against water as well as forms of physical wear and tear, such as scratching or scuffing. 
In addition to being scratch-resistant, the double-reinforced pressure points of this dry bag ensure that it won't tear under heavy loads. This is a very durable dry bag that won't let you down when you need it most. 
The IDRYBAG dry bag has a large inner pocket as well as an outer pocket. This is a pretty ideal layout for a dry bag because it allows you to keep most of your items safely in one place so that you can find them easily while allowing even easier access to essentials, which you can put in the front pocket. 
IDRYBAG's Waterproof Dry Bag is available in 3 sizes: 20-liter capacity, 30-liter, and 40-liter. This means that the bag will be suited to a variety of purposes and excursions, with even the lowest capacity bag providing a large amount of storage space. 
Something else we really like about this dry bag is the adjustable buckles, which tighten around the waist and sternum to achieve the perfect fit. The buckles are easy to adjust, which makes for an ergonomic product, and one of the buckles even features a built-in lifeguarding whistle – perfect for when you're out on the water. 
We have very few criticisms about this dry bag overall, which is why it has to take the top spot on our list. With that being said, however, it would have been ideal if the inner pocket featured an additional zipper for extra protection.
Pros
500D PVC material – Tough and waterproof 
3 available sizes – 20 L, 30 L, and 40 L
Double-reinforced – Highly durable 
Inside and outside pockets – Easy accessibility 
Adjustable buckles with whistle – Ergonomic and safety-oriented 
Cons
No inner pocket zipper – Could be even more protective 
If you're looking for a dry bag that ticks almost all the same boxes as our best overall pick, but for a lower price, why not check out the Earth Pak Waterproof Dry Bag? 
The construction of the Earth Pak dry bag is impressive, featuring waterproof 500D PVC material that also boasts an optimal level of wear resistance. You will be able to rely on this bag to see you through outdoor boating or hiking trips for years to come. 
Earth Pak's Waterproof Dry Bag is available in a wide range of sizes, going all the way from 10 liters to 55 liters. This means that you can easily purchase this bag in a size that matches your requirements without having to compromise. 
All bag sizes come with long straps for maximum frame compatibility. At the higher capacities, extra straps are included for sternum support, making it easier and more comfortable to carry heavy loads. 
However, it should be noted that the lower-capacity bag sizes only come with single straps as opposed to the rucksack-style straps that come with the larger bags. 
The bag even comes with a waterproof phone case that will fit any phone with a screen that measures 6.5 inches diagonally.
The case has a locking system for extra protection, and because it's transparent on both sides, you can continue to use your phone to take pictures while it's in the case. This is the perfect addition to a dry bag, especially if you're planning to use it while sailing or kayaking. 
On top of all this bag's impressive features, an added bonus is the fact that it retails for a very affordable price, so if you're sticking to a budget, this dry bag could be perfect for you!
Pros
500D PVC construction – Waterproof and wear-resistant 
Wide size range – 10 – 55 L capacities 
Heavy-duty straps – Long and ergonomic 
Waterproof phone case included – Extra protection for your phone
Affordable – Budget-friendly 
Cons
Double straps not available at smaller capacities – Smaller bags come with single straps 
Although you might be planning on splashing around in the water with your new dry bag, you may not be planning on splashing the cash. If you're looking specifically for a budget-friendly dry bag, we recommend the Piscifun Waterproof Dry Bag! 
Because this bag is made of 500D PVC material, users can trust that it won't break under pressure. Moreover, thanks to the tightly welded seams and roll-over closure, this bag fulfills the most important criteria for a dry bag by keeping your belongings completely water-free. 
The padded and adjustable straps featured on the Piscifun dry bag ensure a comfortable experience using the bag. The straps won't dig into your shoulders, but they will keep the bag securely attached to you at all times. 
One of our favorite things about this dry bag is that it comes with a locking function. This means that nobody else will be able to get into your bag unbeknownst to you.
Another accessory included with the Piscifun dry bag is a 6.5-inch waterproof phone case. There's no need to worry about the safety of your sensitive electronics with this dry bag!
With all of that being said, the larger bag sizes weigh more than 1 lb when empty, so this isn't exactly the most lightweight choice. It's a highly functional bag that does the job for an excellent price, but buyers will need to be prepared for the slight increase in weight. 
Pros
500D PVC fabric – Resists wear and tear 
Welded seams – Watertight 
Padded, adjustable straps – Comfortable, secure fit 
Lock function – Protects your valuables
Includes waterproof phone case – Minimizes risk of electronic water damage
Cons
On the heavy side – Not the most lightweight choice 
Just as there are plenty of budget-friendly dry bags on the market, there are also many premium options that will provide you with even more superior quality and protection for your personal items. 
The Premium Waterproof Bag from Ultra Dry is a perfect example of this, to the extent that we would say it's the best premium dry bag on the market. 
Available in a range of 3 sizes, including 10-liter, 20-liter, and 30-liter capacities, the Ultra Dry Premium Waterproof Bag is suited to a variety of outdoor activities and luggage loads. 
The material is held together using thermo welding, which ensures that the entire surface area of the bag is fully watertight. The waterproofing of the bag is further enhanced by the stiffening blade used in the seal, which helps to ensure that the top of the bag doesn't let any air or water into the inside compartment. 
All pressure or stress points in the construction of the Ultra Dry Premium Waterproof Bag are reinforced with vinyl material, so the risk of tearing or puncturing is greatly reduced. 
The bag also comes with a free waterproof phone case measuring 6.75 x 4 inches with a locking mechanism and touch-friendly, clear windows, so you can continue to use your phone without worrying about water damage. 
We did notice, however, that the lanyard that comes attached to the phone case isn't very strong and is likely to break more quickly than any other component of the bag. 
Pros
Thermo-welded material – Completely waterproof 
Sealed with stiffening blade – Watertight and airtight
Reinforced pressure points – Extra durability 
3 available sizes – 10 L, 20 L, and 30 L
Includes waterproof phone case – Additional protection for electronics
Cons
Lanyard breaks easily – May require replacement 
Finally, we'd also like to introduce you to the Wise Owl Outfitters Dry Bag, which snags the highly commended spot in our top 5. 
The Wise Owl Dry Bag is made of 190 Denier ripstop material, which ensures durability and puncture resistance. 
Meanwhile, the polyurethane coating that the bag has been treated with provides total waterproofing, so you can store sensitive items in this dry bag without fear of them getting damaged. 
Wise Owl's Dry Bag fastens securely with a clip lock. All you need to do to create a strong and watertight seal is roll the top of the bag over a few times and put the clip in place so it's not time-consuming or confusing to use. 
You can find this bag in multiple capacities, including 5 liters, 10 liters, and 20 liters, so whether you're just going kayaking for a few hours or embarking on a sailing trip for a couple of days, you should be able to fit all the essentials you need into this bag. 
With all of that being said, much like our budget pick, the Wise Owl bag doesn't come with any straps for carrying, so it's not a bag for hiking or any other activity where you'll have to keep it on your person at all times.
Pros
190D ripstop fabric – Durable 
Polyurethane coating – Complete waterproofing
Clip lock – Safe and secure 
Several available sizes – 5 L, 10 L, and 20 L
Cons
No carrying straps – Better for boating than hiking
Buyer's Guide: Choosing the Best Dry Bag
Feeling spoilt for choice with all these high-quality dry bags? Not to worry – read on to learn about the features you should think most carefully about when choosing a dry bag.
Size
When buying a dry bag, it can be tempting to race straight ahead and start thinking about the material quality and waterproofing treatments straight away.
While these things are, of course, extremely important, the first place to start when looking for a dry bag is the size, also referred to as the capacity.
The reason for this is that you need to make sure that the bag you are purchasing is large enough for all of the belongings you'll be taking with you on your adventures.
Similarly, you don't want your new dry bag to be too large in comparison to the amount of gear you need to bring with you, or your bag will just feel cumbersome and impractical.
Most dry bag sizes are expressed in terms of capacity (measured in liters), although you can often also find external measurements.
If you have a lot of items to carry, or if a lot of your items are bulkier (think towels), you'll probably be better off with a capacity of 20 liters or more. You can find dry bags with capacities of up to 55 liters for context.
Alternatively, if you don't have much to carry, you can also find dry bags as small as 2 liters in capacity, so you should definitely be able to find a size that is compatible with your needs.
Compartments
In addition to the size of the bag, you will also need to pay attention to how many individual compartments it features, as well as how they are laid out.
Because dry bags are typically less about organization than protecting your personal items from the elements, dry bags typically don't feature as many pockets or compartments as your average backpack or rucksack.
With that being said, it's still helpful to have a separate outside pocket in addition to the main interior compartment so that you can access the most important of your essentials quickly and easily when you need to.
Material
There is a lot to consider when it comes to the type of fabric or material used in the construction of a dry bag.
The first thing you'll want to verify is what kind of material has been used.
PVC material is the most common fabric used to make dry bags because, although it is a very lightweight material, it's also highly resistant to tearing and other forms of wear. It also has excellent levels of water resistance, which can be enhanced through treatments such as polyurethane coatings.
Ripstop fabric is also a common material used in the construction of dry bags. Ripstop material is designed to prevent any punctures or tears from worsening, maintaining the protective nature of your bag as far as possible after the damage.
You will also need to check what the Denier rating of the fabric is. The higher the Denier rating, the more durable and watertight the bag is likely to be.
Denier ratings for dry bags range from around 190 to over 500. A lower Denier can be acceptable if an additional waterproof coating is applied.
Seals and Fastenings
If you want your dry bag to be completely waterproof, it will need to have an effective seal and fastening mechanism as well as using waterproof material.
Most dry bags fasten with a roll-up system at the top, which is then held in place by a buckle or clip.
Features like stiffening blades can help to maximize the water tightness of the seal by preventing any gaps from forming through creases in the fabric.
Straps
It's important to note that not all dry bags come with straps, so you'll need to pay close attention to the design of the bag to make sure it's suited for your activities.
If you're going to be sitting in a boat or kayak most of the time, then a lack of straps should not be an issue. However, if you're going hiking or biking, you will definitely need some straps.
Please note that smaller versions of the same bag may come with fewer straps than larger-capacity bags. If you're opting for a larger dry bag, make sure that it has double straps for rucksack-style use as well as a waist or sternum strap for extra support.
Some dry bags may come with a buckle hook at the top for securing to other bags in lieu of straps.
Additional Features
An additional feature we found included with several dry bags is a waterproof phone case.
This is really useful if you want to be able to continue using your phone in wet conditions.
A waterproof phone case should have a secure locking mechanism to keep water out and should also be touch-friendly as well as transparent so that you can keep typing and taking pictures while it's in the case.
If you're going to be out on the water, we'd recommend choosing a dry bag that comes with a lifeguarding whistle attached for safety purposes.